Are you ready to dive into the world of vaping, but, before that, you need to know a bit about this terminology! This beginners guide to vaping will answer all your questions.
If you are new to the vaping world, you must be a little frightened at first. As you see a wide variety of e-liquids and hardware in front of you, it must be difficult for you to choose the vape kit that works best for you. To overcome this situation, you might need help to get started. For your convenience, we present you an extremely simple and easy-to-follow beginner's guide for vaping so that you could be able to purchase a perfect vaping set up for yourself.
What Is Vaping?
Vaping is actually the latest form of smoking. It is a great way to get rid of the smoking habit. It is generally considered as the healthiest alternative to cigarette smoking. The vapours inhale nicotine-inoculated vapours produced by the e-liquid or e-juice. As a matter of fact, it is not that easy to just pick up the latest vape kit and any e-juice. You have to figure out what your body demands in terms of nicotine. If you make a good choice according to your body needs, it will prevent your money wastage and also going back to cigarette smoking respectively.
By quitting smoking cigarettes, you feel that your lungs do not feel like they are going to blow. It makes you proud though!
Components Of a Vaping Device:
Dip tip – an area from where the vapours inhale from.
Tank – the e-liquids or e-juices are placed in the tank area.
Coil – manufactured by the wicking material, the coil is made up of cotton and needs to be altered after a few days or a couple of weeks or when you feel a burnt sensation upon inhaling.
Battery/Regulated Mod – this area is specified for the battery and electronics that is required to heat up your coil. The capacity of the battery is measured as milliampere-hour (mAh) & the output is visible as watts (W) or volts (V) respectively.
How The Vaping Device Works –
The E-juice present in the tank is heated by the electronic device which produces vapours. The wicking device is wrapped around the coil which absorbs the e-juice and when the power button is switched on, it began to produce vapours.
Vaping Options & Formats –
The question arises, what type of vaping device is suitable for you?. You need to understand what type of vape mode you need. A variety of mods are available for you i.e.
Pod Style Modes
Box Style Mods
Disposables
Mechanical Mods
Pod-Style Mods –
Pod style mods are considered as the next step towards specialized vaping. In appearance, they are bigger than electric cigarettes. They include several parts like coil, tank, or dip tip than can be altered or changes anytime. Pen style vaping mods are more powerful and reliable then e-cigs. These pod-mods relatively produces more vapours. In the vaping industry, pod mod is the latest trend. The reason for their popularity is that they are portable and user-friendly. They provide a wonderful experience that is just close to cigarette smoking.
Moreover, they are rechargeable, as they contain a USB port. Some pods also contain disposable batteries.
Pros –
These pod-style mods have more vaping power.
These pod mods are customized.
These pod mods have longer battery life.
Cons –
These pod-style customized mods are slightly expensive than electric cigarettes.
These are less powerful than box mods.
They require regular maintenance to work properly.
If you want healthy lungs and healthy life, then stop smoking and start vaping!
Box Style Modes –
Box mods offer a flexible deal of what more you can do. Box modes are more powerful than pod mods which provide you with more flexibility to vape. The Box mods can provide you with the interchangeable batteries, tanks, coils and other hardware as per your requirement. If we talk about the appearance, box mods are bigger then pen-style mods.
They are composed of a large battery and adequate space for the interior wiring and accommodation of the built-in display system for temperature, voltage, or other metrics of performance.
These modes are more powerful then e-cigs. One of the interesting features of the box mod is that it let you choose different settings of coils and tanks that work best for you.
The box mods are personalized and advanced vaporizers that produce a good amount of smoke. They also contain atomizers, clearomizers and mouthpiece which provides more enhancement in the vaping experience. All the parts and pieces on box mods are customized
Pros –
Box-style pods are more powerful then e-cigs and vape pens
It produces an adequate amount of vapours
Provides fine-tune the vaping experience
Cons –
It is the most expensive format currently
Needs time to time maintenance and replacement of its parts
The latest features need time to get settled
Disposables –
The cheapest, simplest and as well as most accessible device out there, disposable vape pens. These are ready-to-use vape pens and are thrown away when their batteries are over. They are nor reusable.
Some disposable vape pens contain replaceable unit devices that allow the user to recharge the battery or replace the tube holding the e-liquid.
The latest vape pens contain the temperature controls and auto power regulation mechanism. It also includes the production of vapours without the intervention of the user respectively.
Pros –
These vape pens are cheap in cost
These are very convenient to use
These vape pens have a very simple and user-friendly interface.
Cons –
The vaping experience is relatively weak
Batteries expire frequently and do not last long.
Mechanical Mods –
The most involved type of vaping is known as a mechanical mod. These are specialized devices free from any electronic control to regulate the vapour production. To use this mod, you have basic electronic skills to operate this device. If you are new to vaping, you don't need to use this mod. These mods do not allow any heavy wiring. Its simplicity grabs the attention of many vape users.
Pros –
Very simple and easy interphase
Powerful and long-lasting vape device
Cons –
It is beneficial for the experienced vape users
Its components can be easily damaged if they are not used wisely.
What are E- Liquids?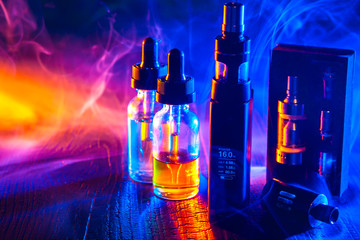 E-liquid is the substance which is inserted into the vape pen and vape mods to provide the vapours with flavour and nicotine. The e-liquids are also known as e-juices. They are available in the wide variety (with or without nicotine). The main ingredients used in the manufacture of e-liquids are propylene glycol (PG) and vegetable glycol (VG). Both of these ingredients are combined with a huge number of different flavours to produce new and appealing flavours.
The most interesting thing about the e-liquids is that they have different ratios starting from 50% PG/ 50% VG blend. The ratios could be even higher as per user's requirements. The E-juices also contains dilutants i.e. distilled water.
How to choose the right E-liquid?
After getting settled with the e-cigarettes, vape kits and mods, the next and most crucial step is to select the flavour of e-juice that fits best for your body requirements. There are thousands of flavours available for you. You just have to choose wisely. The e-liquids are available with or without nicotine. Those with nicotine are simple and easy to choose and understand, but PG and VG ratios can be complex especially for the beginners. This is an important element is the overall vaping experience.
PG and VG ratios play an extremely crucial role in the vaping phenomenon as they demonstrate the thickness of the fluid (e-juice). These ratios also determine the intensity of the physical sensation. If the VG ratio is higher than the PG ratio than atomizer produces more vapours and a very smooth vapour hit. On the contrary, if the ratio of PGis more than that of VG than the flavour of the e-juice will be enhanced.
Hence, in order to get the flavour that works best for you, you have to try different flavours along with different PG & VG ratios respectively.
How To Choose The Right Amount Of Nicotine Level?
The right and accurate amount of nicotine level totally depend upon how heavy cigarette smoker you are. The E-Juice flavours are available in five different levels i.e.
3 mg of nicotine
6 mg of nicotine
12 mg of nicotine
18 mg of nicotine  and,
24 mg of nicotine
If you are new to the vaping world, the best recommendation for you is to stick to the standard nicotine level. For instance, if you were a heavy cigarette smoker and smoke a pack per day than you will need about 18 mg of nicotine to start. Some people start at relatively high levels of nicotine i.e. 24 mg, but the best thing is to stay with standard level and observe how your body reacts on it. 12-18 mg is the best range for beginners respectively.
Sub-Ohm Tanks :
A sub-ohm tank is a specialized device which has the coil with the resistance of 1.0 ohms. This the main reason that these devices are very powerful and produce an exceptional amount of vapours and well as delivers a better flavour respectively. These vaping devices are so powerful that they typically deliver the lung hits which means they can inhale straight toward the lungs. Most of the sub-ohm vape tank users flavour their e-juices with the higher percentages of VG so that more and more vapours can produce with the smooth hits creating large smoke clouds. However, the nicotine level is not more than 6 mg respectively.
Wrapping Up –
So, here is a detailed yet comprehensive guide to the beginners. Although there is many more things to come in the world of vaping, here is all the necessary information that one can require to take a good start. To understand vaping, what people are should quit cigarette smoking and opt to vape, the different types of equipment and formats, and the basics of e- liquids. To conclude, you now know all about vaping.
Now, it's totally up to you to select the best option for your body.
HAPPY VAPING!